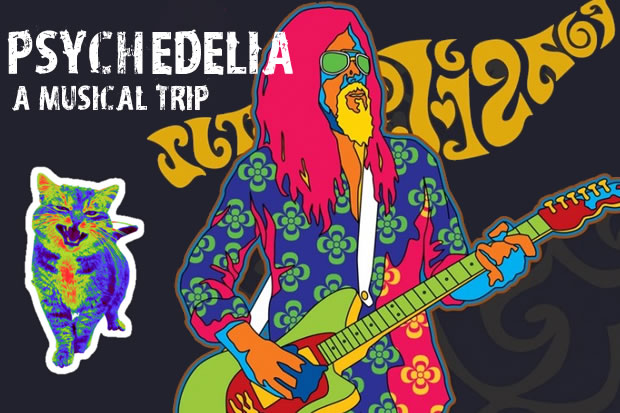 Tomorrow never Knows by the Beatles was one of their true Psychedelia pop tracks. David Crosby of the Byrds who became part of Crosby Still and Nash was in the UK and the story I heard is that he heard Tomorrow Never Knows and thought wow amazing.
Psychedelic music (sometimes psychedelia) covers a range of popular music styles and genres influenced by psychedelic culture that attempted to replicate or enhance the psychedelic experiences of psychedelic drugs. It emerged during the mid-1960s among folk rock and blues rock bands in the United States and Britain.
Psychedelic bands often used new recording techniques and effects, drawing on non-Western sources such as the ragas and drones of Indian music. Psychedelic influences spread into folk, rock, and soul, creating the subgenres of psychedelic folk, psychedelic rock, psychedelic pop and psychedelic soul in the late 1960s before declining in the early 1970s.
Psychedelic music bands expanded their musical horizons, and went on to create and influence many new musical genres including progressive rock, kosmische musik, synth rock, jazz rock, heavy metal, glam rock, funk, electro and bubblegum pop.
Psychedelic music was revived in a variety of forms of neopsychedelia from the 1980s, in psychedelic hip hop and re-emerged in electronic music in genres including acid house, trance music and new rave. Other very iconic Phychedelia pop/rock was Nights in White Satin The real thing: Produced by Ian Molly Meldrum. Part 3 into paper walls: this songs intro was the back masking The Real Thing
Pink Floyd – 07 – Interstellar Overdrive – The Piper At The Gates Of Dawn (1967)